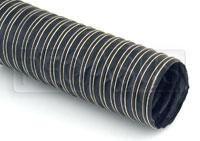 3'' Black Brake Duct Hose
Neoprene Air Duct Hose is widely used for cockpit, brake, and other low pressure ducting applications. This hose is extremely flexible and pliable, but a bronze coated spring-steel wire support helix prevents it from collapsing. The fiberglass fabric cover and fiberglass cord are both impregnated and coated with neoprene rubber. The temperature limit is 300°F. Lengths can be screwed together to form a longer continuous length if you've got leftovers around. Black only.
Sold in 12ft sections only.